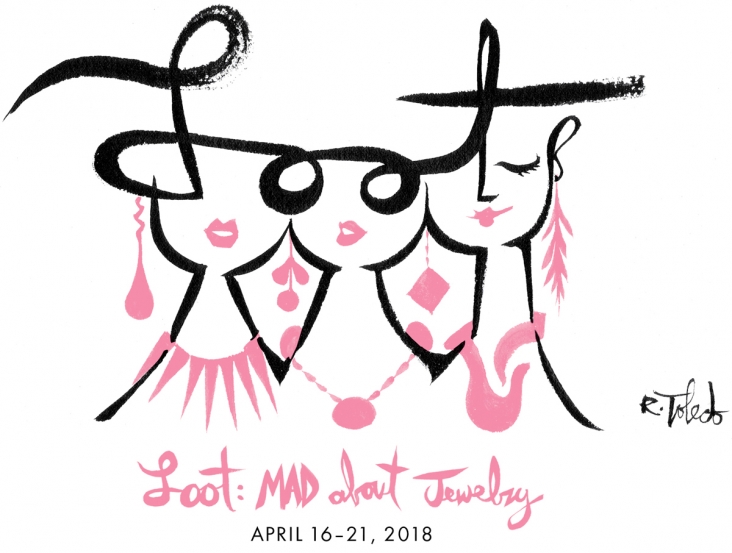 I år er jeg er blevet inviteret med på LOOT – MAD About Jewelry. En årlig salgsudstilling af kunstneriske smykker på Museum of Arts and Designs (MAD) i New York City. 
Udstillingen er nøje sammensat af et hold meget forskellige smykkekunstnere, og jeg er blevet opfordret af Loot kommiteen til at bringe 75 værker med udspring i mit "Koral" collier fra 2009, og fra min "Tivoli" kollektion, af ædelmetal og farvede nylonstrømper.  Så jeg har her i de sidste par mdr. haft travlt med at få værkerne klar til rejsen.  Følg med på min facebook og Instagram side ( klik på ikonerne øverst i højre hjørne på websiden ) Der lægger jeg billeder af de nye unika smykker jeg har lavet til udstillingen. 
About LOOT
From April 16–21, 2018, The Museum of Arts and Design will present LOOT: MAD About Jewelry, its annual exhibition and sale featuring designs from 35 emerging and acclaimed international jewelry artists. Now in its 18th edition, LOOT has become known as the ultimate pop-up shop for contemporary artist-made jewelry, where collectors and jewelry enthusiasts have the rare opportunity to meet and acquire pieces from some of the most innovative creators in the field.
LOOT is in keeping with the long-standing commitment of the Museum of Arts and Design to present jewelry as an art form. MAD is the only American museum to possess a gallery dedicated to the display of both temporary jewelry exhibits and its own collection of contemporary and modern studio and art jewelry.
For more information, please contact Rebekka Grossman at rebekka.grossman@madmuseum.org or 212.299.7712.
Proceeds from LOOT: MAD About Jewelry benefit the Museum's exhibitions and education programs.